The NSWAPA represents the interests of NSW pistol shooters statewide and nationally through Pistol Australia (PA), Australia's peak pistol shooting body, with Shooting Australia
WELCOME
Welcome to the official Web site of the New South Wales Amateur Pistol Association (NSWAPA) Incorporated where you will find a wide range of information on:
•
regular updates on results, regulations and other pistol shooting sport related issues.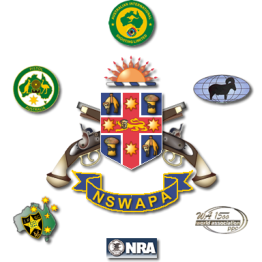 The information we publish on our Web site is for athletes, as well as shooting sport interested and enthusiastic fans and officials. We would like to encourage every visitor to provide us with any appropriate comments, suggestions or feedback to help us grow, evolve and improve our services to the shooting fraternity and the community-at-large.
LATEST NEWS
The 2019 Australian National Action Pistol team will depart Australia on 15th and 16th May 2019 for the annual Bianchi Cup in the USA. The team consists of:
Men: Mark Blake (VAPA), Zeljko Cvetnic (VAPA), Craig Ginger (NSWAPA), Nigel Gordon (PSQ)
Women: Cherie Blake (VAPA)
Team Manager: Nick Barnard (PNT)
Daily updates of the competition and the teams tour will appear on PA's Web Site, Facebook, Twitter and Instagram accounts.